---
---
BMW Bluetooth retrofit for Euro BMWs built without telephone prewiring
This kit is designed to be a simple upgrade for your BMW, providing voice control of your navigation (if equipped) and voice control of your cellular phone. Each kit is specific to the model, so please select the proper information below for us to get you the correct kit for your specific car.
Bluetooth is a new function of the latest cellular phones that allows you to wirelessly connect your cellular phone to other accessories such as a laptop or wireless headset. BMW's Bluetooth system takes advantage of this functionality to allow you to use your standard Bluetooth enabled phone in your BMW providing safe hands-fee operation while driving, plus some additional features such as voice control of your cellular phone and navigation system (if equipped).
The nice thing about Bluetooth is you do not need to physically connect your cellular phone to your BMW. You can keep your phone in your pocket or purse and still use all of the functions. Any of the pictures showing the cellphone phone in a cradle are just illustrating the optional charging and the boosting of your cellular phone antenna using the optional BMW snap in adapters.
With the BMW Bluetooth system you can use the BMW steering wheel and radio controls to navigate your cellular phone phonebook, dial numbers, increase volume, ect. The system also allows for the voice control of your cellular phone, voice control of your navigation system and notepad (to save a message to yourself for later replay). The system operates just as your BMW factory installed phone would operate with the added benefit of voice recognition and voice control of phone and nav.
BMW Bluetooth Systems are for BMWs either with Navigation or without Navigation.
NOTE: Our Bluetooth Kits come with the latest Generation BMW ULF modules Available as shown in the BMW Compatibility matrix (and NOT the problematic first generation 84 21 954 552 others are selling, Be careful on getting older ULF modules as some people have had difficulties and incompatibilities with the old first generation ULF modules. Why use Our Bluetooth Solution?Detailed Installations instructions will ship with your kit. For a pictorial overview of the E38 installation click HERE.

Brief Operational Videos of BMW Bluetooth retrofit (BMW Navigation not required for Bluetooth functionality)

All Kits available for immediate Shipment
Other Options
Noprewiring kit is specific to BMWs that are not equipped with telephone prewiring. The kit will ship with a pairing button that can be installed in the trunk area.

A good way to tell if your BMW is Prewired for phone is to look in the rear compartment with the other electronics are located to find the 12 pin telephone wiring plug. If there is not a telephone harness connected, your BMW is not prewired for phone. Sometimes a good indicator is if your E38/E39 has the solid leather arm rest as shown in the following photo.

Not typically prewired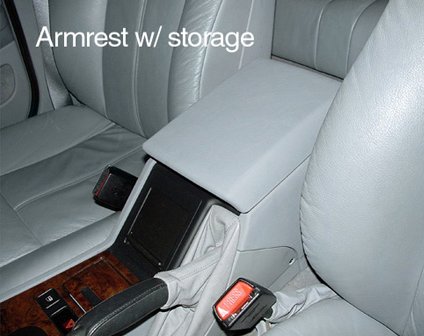 Typically Prewired for BMW telephone system: ALL US Spec BMWs and Most World BMWs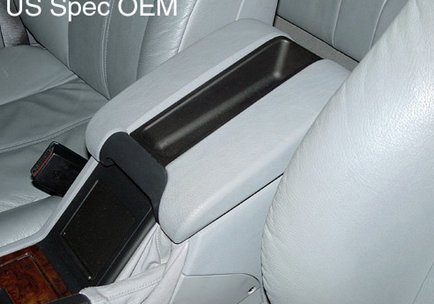 NOTE: Some USA model BMWs have the solid leather arm rest piece due to previous owners making this change for "cosmetic" purposes. Having the leather arm rest does not automatically indicate no prewiring. It is just a quick indicator. The best option is IF you have the solid arm rest in a non-usa spec BMW you can locate the X400 (telephone wiring) plug in the rear compartment. This is a clear/white 12 pin plug. Prewired BMWs will have a telephone wiring harness connected to this plug as shown in this BMW X5 photo.


PLEASE NOTE: In order to use A2DP Music over bluetooth you will need to install an application on your bluetooth enabled telephone for A2DP support. In order to use A2DP this applications must be turned on and off on the telephone itself to enable the music over bluetooth function in your BMW. Music over Bluetooth is not officially supported by BMWs before 2011 Models, so please note these limitations and manual control of the Music over bluetooth function from your smart phone.
At this time we are only aware of a few different applications for music over bluetooth, but can not guarantee full support.
Iphones
Search in Cydia for "Bluetooth Mono SBSettings Toggle" and make sure you have it enabled in SBsettings
Android Phones
BTHeadSet app https://play.google.com/store/apps/details?id=com.AngelOfMors.BTHeadSet
BTmono App https://play.google.com/store/apps/details?id=com.bedoig.BTmono
---